Boundary Element Researchers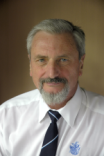 Professor Carlos Brebbia was the Founder and Director of the Wessex Institute of Technology. He was born in Argentina where he completed his first engineering degree. He spent two stimulating years after graduation as part of a small team setting up an Institute of Applied Mechanics. Following this, he registered at Southampton University in England for a high degree, arranging to carry out his research partly at MIT.
To read more about Carlos please see his obituary.